[

mn

] Web Design
We at [mn]medianet Solutions specialize in designing a creative, high-end web designs that help you to create an image for your business in Internet marketplace. Either a big company in it's area of business or a small startup, no matter what the size of the your company is, to compete and to stay ahead of your competitors in today's market an exceptional website is necessary, we at [mn]medianet design exactly the right site for you in your budget. Each and every site we make is tailored to the business or organization it represents. Our main aim is to provide our customers with advanced technology along with awesome looks and functionality. We believe a website has to be designed in such a way that it has to remain standard with your brand and represent your business in a professional way because your website many times is the first communication bridge between you and your customers. We build the design on a pre planned architecture that guides the users through the flow of actions you want them to follow.
One Website for all Screens
Gone are the days when a website is only limited to the desktops. These days you have new users coming online from multiple devices such as Smartphones, Tablets and more who are the first time users accessing the internet. Many a times these first time users will never get to use a desktop too. So the web these days is not limited to desktops. Every new users connecting to web is coming from different set of devices which come with different screen sizes. Already there are stats which are stating that more than 30% of internet traffic is coming from Mobile devices or hand held and by 2015 it is going to be over 50%. In such a scenario it is important that your site functions seamlessly on tablets and mobile devices as on PCs. And the way to ensure a smooth compatibility from device to device is Responsive Web Design.
Responsive website design offers your users a seamless experience regardless of the device they come from. They can do all sort of things such as Browse, Transact, stay up to do date by grabbing information on the run effortlessly, the layouts shift from device to device seamlessly. Also as devices comes with different behaviors such as touch, swipe and etc we vary the navigation by device to suit their individual screen sizes.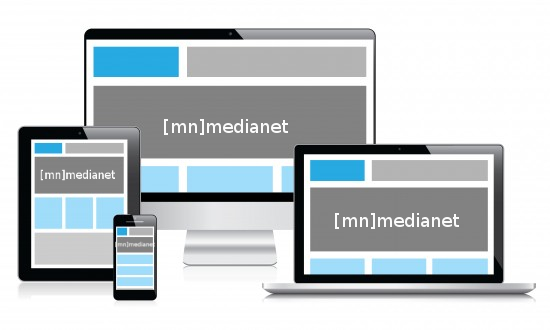 Some of the key advantages working with [mn]medianet:
Team of Professional designers with vast experience in web site design.
Our team is up to date with latest design trends and concepts.
Creative and thought provoking approach by our designers specializing in spreading your message through web.
Clean and SEO friendly codes completely validated by W3C.
User friendly navigation providing seamless experience to users.
Responsive Website Design for easy adaptability on all kind of screen and browsers.
Professional services in reasonable budgets that suits you.